Last weekend I watched National Treasure 2: Book of Secrets. I don't recommend it.
But there is one, unintentionally, interesting scene. About one hour and 17 minutes into the movie, the police rush into the Library of Congress (chasing the man who kidnapped the president of course). Interestingly, there were no (fake) guns in any of the scenes inside the Library of Congress. The actors rushed in pointing their fingers!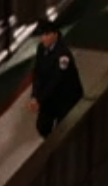 Look carefully at this policeman's hands, he's holding them in a "low ready" position as if he were carrying a pistol, but there's nothing there.
I guess they thought nobody would notice, and according to google, they were right so far.
If anyone has a high-definition copy of the movie, and can extract that one scene, I would appreciate it. A picture just doesn't show it all (although a grainy video is worse).