There are many apps for reading Wikipedia. Prometheus is different. It's an editor for the Simple English Wikipedia.
Simple English Wikipedia is like regular English Wikipedia, but it's written with simple words and grammar, so kids and non-native speakers can easily grasp it.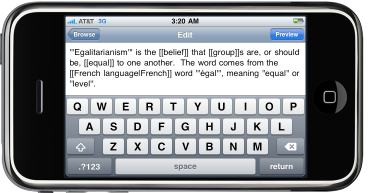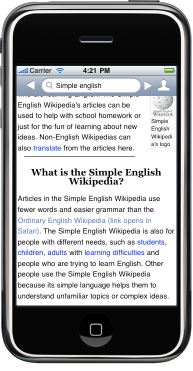 Loading…

Features
Shake for a random page
Or search and browse with purpose.
All articles are formatted for iPhone.
Tap the words you want to change to start editing.
Landscape keyboard support for easy typing.
Unfinished edits are automatically saved for later.
Simple Wikipedia makes a complex world comprehensible. Use it to teach what you know to someone who wants to know it.
More Information
For more information and announcements, check out the Prometheus Blog
.
The Prometheus development blog
covers programming details, if you're into that sort of thing.

Download from the iTunes App Store here.